Wash water recovery
Wash Water Recovery is a major concern when pressure washing parking garages, parking lots, sidewalks, or any public area. City, county, and state regulations all require that waste water generated through the process of cleaning concrete, even when chemicals are not utilized, be collected at the site then disposed of at a state-approved liquid waste treatment facility. They know that the run-off created by the cleaning process is contaminated with harmful oils, grease, and chemicals (think leaky cars). If this contaminated water reaches the storm sewers, it will eventually make its way into our waterways, ultimately contaminating our ground water and oceans (all water leads to the ocean).
Liquid Waste Solutions provides full service pick up of all contaminated water from pressure washing in Houston and surrounding areas. We remove all of the wash water generated and transport it to a state-approved facility. You receive full documentation of its legal disposal.
If you need something cleaned, are you doing the work yourself or contracting it out? Either way, we can be of service. If you're cleaning it yourself, call us for the water pick up and avoid costly fines and/or prosecution for "water pollution" (they will find you. eventually). If hiring a contractor, verify that they don't just wash everything down the drains. We have worked with several contractors and can offer recommendations.
Contractors, call us for a quote for your job. We have experience with parking lots and multi-level garages, sidewalks, and other public structures. Once we've seen the high quality of your work, you will become a recommended Approved Contractor.
Remember, we come to your site and collect the water as you clean. You don't need to invest in expensive, temperamental equipment that is a hassle to clean. All you need is us. Call us for a free estimate.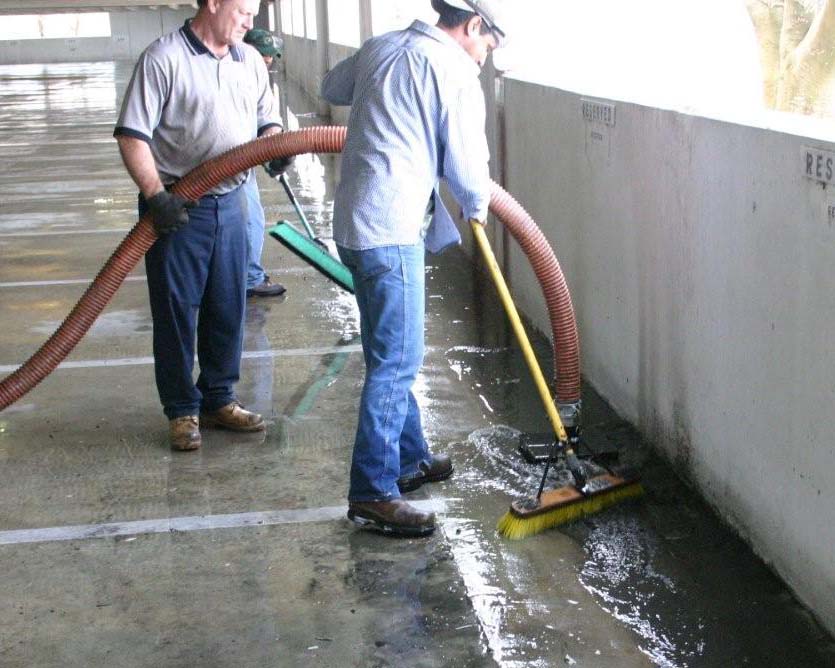 Contact Us
If you have any questions about our services or need to schedule a cleaning give us a call or shoot us an email. We take the time to make sure your job is done right the first time!